Profile
Nickname: Clive Maxfield Articles(444) Visits(533137) Comments(79) Votes(236)
There is so much amazingly cool "stuff" to see and do that I'm amazed I find the time to get any real work done. In my blog I will waffle on about the books I'm reading, the projects I'm building, and the weird and wonderful websites I blunder across. Please Email Me if you see anything you think will "tickle my fancy."
Blog Archive
2016 - Apr., Mar., Feb., Jan.
2015 - Dec., Nov., Oct., Sep., Aug., Jul., Jun., May., Apr., Mar., Feb., Jan.
2014 - Dec., Nov., Oct., Sep., Aug., Jul., Jun., May., Apr., Mar., Feb., Jan.

View All
Posted: 07:03:01 PM, 25/03/2014
Proto-shield for Arduino Kickstarter Project is on!
Eeek! I am currently utterly excited because the Universal Screw-Block Proto-Shield for Arduino Kickstarter project I've been working on with my chum, EE Times blogger Duane Benson, just went live yesterday.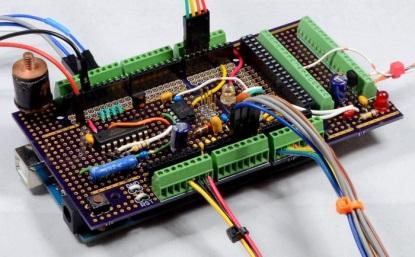 These proto-shields—which we've dubbed the "EETimes Edition" (it says so in the silkscreen on the back)—are really useful. Both Duane and I are already using prototype versions in our own projects. Also, 14-year-old high school student Andrew LaVigne recently used one as part of the Arduino-powered robot he created for a local STEM competition. In fact, Andrew will be giving a presentation on his project on Wednesday, April 2, at the Gadget Smackdown at the EE Live! 2014 Conference and Exhibition.

Actually, it was the wildly enthusiastic response to one of my earlier blogs on our proto-shield, including numerous emails saying "Will you be making these available to other enthusiasts," that prompted us to launch our Kickstarter project in the first place.

The main thing about this Kickstarter project is that Duane and I are having so much fun with the little rascal. Take a look at the different pledge levels, for example. I'm particularly happy with the FULL MONTY COMBO, the FULL MONTY COMBO ON STEROIDS, and the GALACTIC MONTY COMBO WITH WHIPPED CREAM.

I can't speak for Duane (who is located at the other end of the country), but I'm anxiously watching the screen and refreshing my browser to see who will be the first to pledge to our project.
Have Your Say!
Got something to say? Why not share it with other engineers?
Just introduce yourself to us, we'll contact you and set you up. Yes, it's that simple!
See what engineers like you are posting on our pages.